Rosemary Irons
Rosemary Irons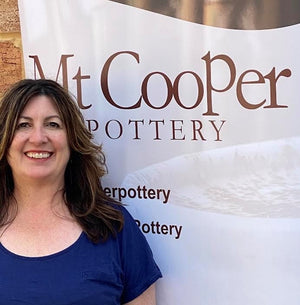 Rosemary has recently established a new pottery at Mt Cooper in Victoria. Her work includes functional ceramics inspired by architecture and both the urban and natural environment of Mt Cooper situated in Bundoora Park, 15 kms  north of Melbourne and the traditional home of the Wurundjeri people.
​Time spent in the park (especially over the last year) with the incredible textures of redgum and eucalyptus trees and exposed volcanic rock has influenced the surfaces and choice of materials in her work. All works are layered with slips (liquid clay) and glazes that combine to create matt, glossy, opaque and transparent surfaces in the finished work.
​Glazes often have a stone or marble like quality and are tactile. They can be smooth and silky or dry and reflect the material qualities of ceramics and the raw materials that make up the glaze. Some work includes ash from (sustainably sourced) redgum trees.
​Rosemary's current work in functional bowls, beakers, cups, platters and plates has been created from her interest and delight in getting together with groups of people over shared dishes of food. This interest grew during her time living in the middle east where large platters of food were associated with many types of celebrations enjoyed by new friends and acquaintances from all over the world.
​Some of the forms Rosemary has created are linked to Arabic style cooking vessels and often highlight edges and angles, with a focus on rims to frame the food and beverages they are designed to hold.  It has been exciting to see this work embraced by local and international chefs, food stylists and valued customers. Many of the pieces are designed to work together enabling the collector to express their own creativity by combining the unique pieces they collect together in their own home.