Ruth Byrne
Ruth Byrne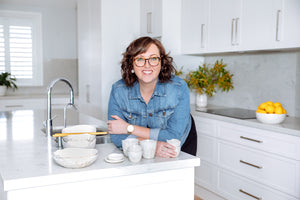 There is something special about the moment between a person and a cup of tea in their favourite cup or soup in their favourite bowl. For me this is the most important part of my work, once it is out of my hands and being loved and enjoyed by its new owner.
My work is influenced by my experience with pottery in Japan, China and my home landscape in Australia.  In particular the ritual nature of pottery, in tea ceremonies in Japan and large communal meals in China and at home in Australia.
Clay is such a process driven material. I enjoy being able to demonstrate the nature of clay at its various stages. The makers 'spiral' mark on the inside of the pots, and the facets on the outside. The undulating rims reminiscent of the rolling hills of the Orange region.
I use a range of clays including white, dark and iron rich stoneware. Most of my works start as wheel thrown vessels, which I then facet at the leather hard stage. I enjoy using satin and matt glazes adding to the tactile nature of the work.