Louise Martiensen
Louise Martiensen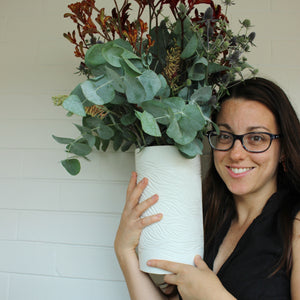 LouiseM studio is the ceramics practice of designer/maker Louise Martiensen. This Sydney-based creative's objective is to bring beautiful handmade ceramics into your home and daily use with her ranges of porcelain tablewares and homewares.
Louise started her ceramic journey over 10 years ago after falling in love with the medium whilst at university. With a desire to experiment and play with technique, push design possibilities and make pieces unlike anything she was seeing, she started her own business.
Each piece is made lovingly by hand in Louise's inner-west studio using the slip-casting technique, and embellished with individual pressings, carvings and colouring. We accept and embrace individual differences in our pieces, believing it inspires a greater connection to the work. They are pieces that are designed and made to be used everyday, because your favourite wares should be the ones you use regularly, making each day beautiful.