Sarah Jennings
Sarah Jennings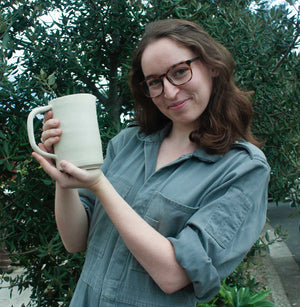 Sarah is a Sydney based designer who has a passion for creating in many mediums.  From sewing to woodwork with many crafts in between her interests are varied. In the past couple of years the focus has been on ceramics. She enjoys the tension between the artistic creativity and technical specificity that ceramics provides.  She is our first emerging artist for the inaugural 2021 Claymaker's Expo, We hope in future years to encourage many more.
Graduating from The University of Technology Sydney with a degree in Industrial/Product Design in 2019 Sarah has since been working full time as an Industrial Designer. Her experience allows her to approach pottery with design thinking techniques and methodologies and gave her a solid understanding of form and process. Whilst mostly self-taught in ceramics, she completed two short courses at the National Art School. The first was in wheel throwing, to hone skills she had taught herself over the past years. The second was a glazing course which opened the door to a whole other area of learning and exploration with a more scientific focus. 
Sarah draws inspiration for ceramics from design trends and by challenging and pushing her skills in wheel throwing and glazing. Whilst it's still early days as a potter, she is looking forward to pursuing design and ceramics as lifelong passions.