Steve Sheridan
Steve Sheridan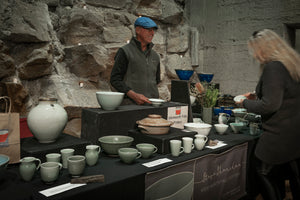 Steve Sheridan was born in Sydney and educated at St Joseph's College, Hunters Hill. His initial training was at the School of Architecture, University of Sydney (1968-1974), where he received a Bachelor of Science Degree in Architecture. He worked in landscape design for several years before beginning his career in ceramics, which commenced with an art traineeship through the Australia Council for the Arts at the Kelvin Grove College of Advanced Education (KGCAE), Brisbane, from 1979 to 1981.
Sheridan taught ceramics and sculpture at the Bryanston School, Dorset, from 1986 to 1998 and during these years held solo exhibitions of his work at the Hambledon Gallery, Blandford (1988), Alpha House Gallery, Sherborne (1992 and 2006), and Bryanston Arts Centre, Blandford (1998). Returning to Australia he was Co-ordinator, Creative and Expressive Arts, St Paul's Catholic College, Greystanes from 1999 to 2000 and since then he has taught part time at Bede Polding College, South Windsor. In 2001 Sheridan set up the Wentworth Falls Pottery gallery in the Blue Mountains where he displays his work. Sheridan held a solo exhibition of his ceramics at All Hand Made Gallery, Sydney, in 2003 and at The Tunnel Gallery, Tonbridge, UK in 2007. He has also been included in numerous group exhibitions in this time.
Steve Sheridan's work is an extension of the tradition of Bernard Leach, which acknowledges the forms, glazes and histories of Asian ceramics. This approach, the acknowledgement that the potter's work continues and expands a distinguished tradition, is at variance with much contemporary art practice.
His work has remained surprisingly consistent throughout his career. The simple, elegant and beautifully glazed forms of his early work are remarkably similar to his contemporary stoneware and porcelain pieces, except that Sheridan now uses 'sang de boeuf' and celadon glazes.
Sheridan's work is functional and timeless – the appeal of such work is that it introduces a note of stability and continuity in a changing world.