Susan Hill, ACT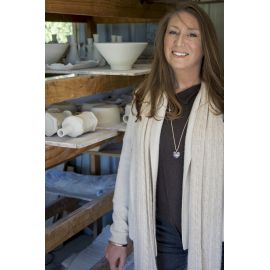 Susan trained in production pottery at Sturt, Mittagong from 1995-1998 under Tony Burgess in the Leach tradition. She also holds a Diploma of Ceramics and a BA in Graphic Design.
In January 2011, she established her own studio in Murrumbateman, NSW, where she makes stoneware and functional porcelain ware. Susan is intently interested in pottery throughout antiquity from Palaeolithic figurines and cave art, through the earliest functional-ware to the classic forms of the Mediterranean civilisations right through to modern forms. She makes a wide range of 'designerware' pots which are inspired by the pottery of the Roman Republic and Empire. Her pieces are primarily thrown on the wheel and then assembled by hand. Susan enjoys the challenge of uniting functionality with aesthetically pleasing forms and glazes, and retaining elements of the handmade process.
"I enjoy making classical forms, following structural traditions, but glazing my pots in perhaps an unexpected way that the makers of the traditional form would never have seen or imagined; and I believe that potters of the future will make functional pots in a way that we cannot conceive now. We are part of a living family tree of potters stretching back into antiquity."
Susan develops and makes all her own traditional, food-safe glazes: tenmoku, chun, seiji, nuka, tomato and copper red among others and fires to 1285° under gas reduction.  She enjoys the creativity of a painterly approach to glazing, and frequently uses designs and decoration themes inspired by the Australian landscape. She enjoys the interplay of colour that only glaze-on-glaze can achieve in gas reduction - and her pots reflect that.
Susan Hill, ACT