Stephen Sheridan, NSW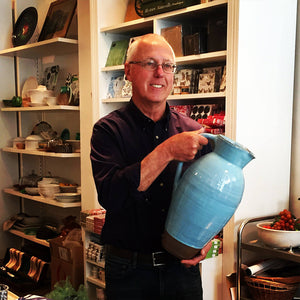 Stephen's work is an extension of the tradition of Bernard Leach, which acknowledges the forms, glazes and histories of Asian ceramics. This approach, the acknowledgement that the potter's work continues and expands a distinguished tradition, is at variance with much contemporary art practice
Stephen was born in Sydney and educated at St Joseph's College, Hunters Hill. His initial training was at the School of Architecture, University of Sydney (1968-1974), where he received a Bachelor of Science Degree in Architecture. He worked in landscape design for several years before beginning his career in ceramics, which commenced with a studio traineeship through the Australia Council for the Arts at the Kelvin Grove College of Advanced Education (KGCAE), Brisbane, from 1979 to 1981, with Kevin Grealy  (Queensland Potters Workshop). This was followed by time with Gwyn Hanssen Pigott when she took over the Workshop.  He continued this direct experience with the famous potter Ivan McMeekin (who was also the teacher of Gwyn Hanssen Pigott) from 1982 to 1984 and then later again in 1987. In the intervening years he studied at various institutions in the United Kingdom, including oriental ceramics at the Percival David Foundation, London.
Sheridan taught ceramics and sculpture at Bryanston School, Dorset, from 1986 to 1998 and during these years held solo exhibitions of his work at the Hambledon Gallery, Blandford (1988), Alpha House Gallery, Sherborne (1992 and 2006), and Bryanston Arts Centre, Blandford (1998). Returning to Australia he was Co-ordinator, Creative and Expressive Arts, St Paul's Catholic College, Greystanes from 1999 to 2000, and taught part time at Bede Polding College, South Windsor. In 2001 Sheridan set up the Wentworth Falls Pottery in the Blue Mountains where he makes and displays his work. Sheridan held a solo exhibition of his ceramics at All Hand Made Gallery, Sydney, in 2003 and at The Tunnel Gallery, Tonbridge, UK in 2007. He has also been included in numerous group exhibitions in this time.
His work has remained surprisingly consistent throughout his career. The simple, elegant and beautifully glazed forms of his early work are remarkably similar to his contemporary stoneware and porcelain pieces, except that Sheridan now uses uses 'sang de boeuf' and cobalt glazes, while maintaining a strong focus on the production of celadon glazes using locally acquired materials.
On his website he remarks of his works:
"For many years I have nurtured an admiration for Chinese pots, and particularly those of the Song Dynasty. For me, the quiet beauty of the celadon glazed pots still speak as powerfully today as they did 800 years ago. The soft and luminous glow generated by the subdued colours and opaque depth of a good celadon glaze provides a strong touchstone of significance and beauty, and an enduring contact with our ceramic history. These pots were a simple expression of the materials available to the potters of the day. In my work I hope to emulate some of the soft strength of these classic wares, and at the same time express some of the particular characteristics of the Australian materials available to me. The intimate connection to the process of finding, processing and utilising local clays and rocks, and transforming them into vessels or objects which may make a contribution to the pleasure of our lives is my inspiration. I attempt to make pots whose simple forms are augmented by the seductive quietness of celadon glazes, creating porcelain that is elegant and functional alongside stoneware that is strong and enduring."
Sheridan's work is functional and timeless – the appeal of such work is that it introduces a note of stability and continuity in a changing world. 

This bio was researched and written by Glen Cooke for the Queensland Art Gallery in 2012 and updated and authorised by Steve in 2016.  
Photos are by Greg Piper
Stephen Sheridan, NSW