Sandy Lockwood, NSW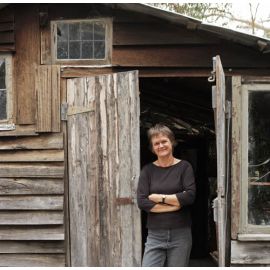 Sandy started working with clay more than 40 years ago when she embarked on a part time evening course in ceramics. She realised immediately that she had found her creative medium so decided to study and learn her craft. Her practical skills training developed as she worked in a pottery production studio before going on to study ceramics full time at the East Sydney Technical College. Since then she has invested many years of learning and skills training toward improving her knowledge and practical skills including gaining a Master of Visual Arts degree from Monash University in 2003 and now as a current Doctoral candidate at the University of Wollongong.
Sandy has been a full time ceramist since 1980 as well as a part time teacher since that time.  She has taught, exhibited and presented workshops in Australia, UK, Taiwan, France, Japan, and the USA and exhibited in many more countries, including The Netherlands, South Korea, Indonesia, Germany, Hungary and Denmark. She is extremely well known and highly regarded in the Ceramics world both within Australia and around the world.
Her work has always been focused on pushing the boundaries of the clay medium. As part of this process she has designed and built her own wood firing kilns to make sure that they are the very best they can be. She was, and still is, driven by curiosity to see what happens when she plays creatively with clay and fire.
In ancient times ALL pots were fired using wood. Today most potters work with electric or gas fired kilns, so she is one of just a few makers in Australia who continue in this tradition, despite the fact that it is very labour intensive and that many pieces from each firing have to be discarded. Sandy does it this way, (many would say the hardest way), because it is the only way she can achieve the results she is striving for. The wood fired kiln provides surprises that can't be planned for or predicted. There are both subtle and dramatic variations of colour and texture on every surface, on every pot in the kiln. This enables her to produce work with an elusive, unique and elemental beauty.
To achieve this, the pots she has already turned and created, are loaded into a specially built kiln made of fire resistant bricks. The flame from burning wood moves from the fire box through the shelves stacked with pots and finally out of the chimney. The flame swirls unevenly and travels unpredictably through the pieces in its path. Common rock salt is introduced into the firebox when it reaches a very high temperature to produce the glaze. This process of salt glazing dates way back to medieval times.
The time taken to woodfire pots depends on the design and size of the kiln. Most pieces are fired for two days continuously. During this time the flame heats some parts of the pots more than others as the ash and salt glaze mingle and mature, producing surface patterns and markings that are unique to this firing method.  This process makes each piece unique and unrepeatable.  Each pot tells a story of what happened to it in the kiln.  Please take some time, when you buy a piece of wood fired pottery, to appreciate the subtle textures and colours of a salt glazed wood fired piece.  You won't be able to take it all in at a single glance, but will appreciate the nuances of each piece over time
Sandy enjoys making pots to be used and wants the tableware she makes to give pleasure to the people who buy it every day. She uses her own pots at home and discovers new ideas that encourage the next step in making.  "I hope these pots become your lifelong friends. My way of making and firing allows a story to be told by each piece. The story includes the gesture and movement of the wet clay on the wheel under my hand, and the unpredictable action of the kiln to produce the many colours and textures that come together in a unique way for every individual piece. Please enjoy!" 
Sandy Lockwood, NSW