Sally Gordon, NSW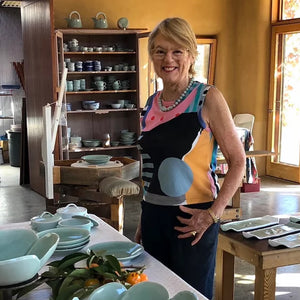 Sally started making pottery during her last two years at school and then attended East Sydney Technical Collage in 1970/71 to complete a full time Certificate of Ceramics under the tutelage of Peter Rushforth.
In 1972 she worked as an apprentice to Helen Laycock for three months in her famous pottery at Dunmoochin in the hills outside Melbourne.
In 1973 Sally joined a gallery and craft centre located at the Boree Carbonne homestead in the Central West of New South Wales, where she tested local clays, made pots and taught interested residents the basics of pottery making.  After fifteen months Sally held her first solo exhibition in the Boree Cabonne Gallery. It was a sell out.
In 1976 she married a farmer and gave up potting to raise a family, but decided in 2007 that it was time to once again pursue her potting career,  so she built her unique 'straw bale' studio on her farm in Millthorpe, NSW and started potting once again.
"It surprised me how long it took to get started again. You have so many dreams of what you want to do, but putting them into practice is another thing altogether. Attending Summer Schools at Sturt, Mittagong, where I first started as a potter helped. I wanted to work exclusively in Southern Ice Porcelain, which demands a high degree of self discipline. I especially wanted to make functional domestic ware and develop a blue celadon glaze to enhance it. I am captivated by its beauty."
In 2009, during the Gulgong Clay Festival one of the Chinese guest master potters, purchased an expresso coffee cup and saucer of Sally's to put into his international ceramic museum in Jingdegen, China. This was a significant compliment to her talent with the Chinese tradition of Celadon glazing.
In 2010 famous Sydney Restauranteur Tony Bilson commissioned Sally to make a range of celadon glazed porcelain plates, and casseroles for his restaurant, which were extremely popular and successful. She has since continued to develop her skills in, and love of, Celadon Ware. In recent times she has been working with the Orange and Bathurst Regional Galleries in addition to selling  to a number of retail outlets. 
Sally is always striving to make functional domestic ware that is "easy on the eye, works well and is a pleasure to hold."
Sally Gordon, NSW