Meg Patey NSW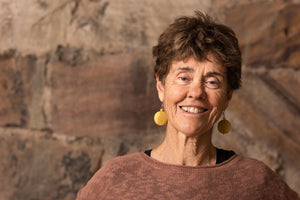 Meg started her career in the arts in 1974 after gaining her Diploma in Art Education from the Alexander Mackie Teachers College and National Art School. After teaching for a couple of years she decided to focus on ceramics and worked as an apprentice to Doug Alexander at his Cuppacumbalong Pottery in the ACT for 2 years before travelling over to France to continue that training with several potteries in France.  
In 1981 Meg returned to Colo Vale NSW to establish her own very successful pottery where she designed and created earthenware tableware displayed and sold through several galleries around Australia for 17 years until 1998.
in 1998 Meg took on the position of Director of the Sturt Gallery and Craft Centre, in Mittagong, where apart from her daily duties and exhibitions she instigated and managed several significant hand crafted events until she resigned in 2009 including "50 years at Sturt Pottery" and "The Sturt Woodfire Conference and Exhibition" in 2008"
She resumed her own pottery practice in 2009 specialising in her unique tableware using slips and of course reduced lustre for her celebratory pieces.  
Meg Patey NSW