Katherine Mahoney, NSW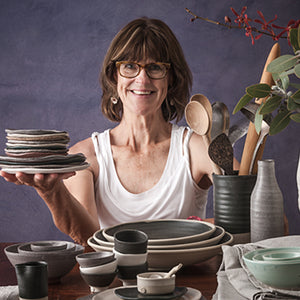 England
Katherine's ceramics are represented in many museums throughout Asia and in private and corporate collections worldwide. She trained as a production thrower in the UK in the mid-1970s, taking an apprenticeship with Keith Harding at Cranbrook Station Pottery. After managing one of Cranbrook Station's branch potteries, Katherine and her brother opened their own pottery studio in Kent (Fulling Mill Pottery) and produced a range of domestic ware.
Hong Kong
Katherine then moved to Hong Kong where she was heavily influenced by Asia's rich history of ceramics. This influence inspired her to start producing single pieces of ceramic which she exhibited very successfully. She started to gain an international reputation and her work was sought worldwide. Katherine's stoneware and porcelain pieces are glazed mainly in cool green, blues and stark white, colours influenced by her study of her craft in Asia.
Australia
Since her move to Australia in 1996, Katherine has continued to design and create one-off, wheel thrown, functional pieces and has also moved into creating more sculptural forms, using a wide range of materials. Most of her pieces are sold privately or through galleries.
Recent exhibitions in Australia include:
2014/15    "Artisans in the Garden" at the Botanic Gardens in Sydney (both years)
2015        "At the Table" a solo exhibition of at the Mu Gallery in Sydney
2014        "Connections" exhibition at the Hat Hill Gallery, in the Blue Mountains was an exhibition in collaboration with Cate Dudley, a Sydney based artist 
2011        Designed and created a range of work for the Art Gallery of NSW to compliment the Mad Square Exhibition.
Katherine Mahoney, NSW