Josephine Cassar, VIC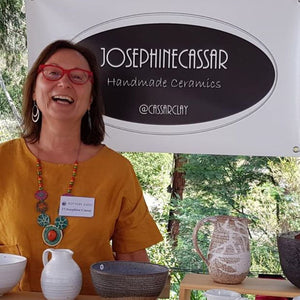 Josephine took her first pottery classes about 30 years ago, initially attending evening classes whilst developing her career as a health professional and raising children. During that time she fell in love with the art and went on to study the history of ceramic arts and the works and techniques of both ancient and contemporary artists.
Her involvement with clay grew as she developed her knowledge and skills and eventually decided in 2014 that the time was right to pursue her dream of becoming a full time professional potter. She opened her own pottery studio in Melbourne, where she now creates her own work and conducts pottery classes.
 Josephine works with high fired stoneware, using slips, underglazes, stains and glazes for colour, contrast and texture. Her work is mainly wheel thrown and she tells us that every piece she makes, develops its own character and tells its own story. 
She believes that eating is a full sensory experience and that the subtle look, feel and design of a bowl or plate can enhance the style and flavours of food. She says "I aim to create pots that are simple, organic, tactile and functional, making meal times an enjoyable and harmonious experience".
She has spent the last decade travelling between Australia, Europe and the USA working in many potters' studios and attending workshops run by expert potters; These included Chris Harford and Maryke Henderson in Australia, Margaret Bohls, Michael Corney and Christa Assad in the US, and Luca Tripaldi in Italy, all of whom have stretched her skills and perspectives. "These  artists taught me how to refine my techniques and to be more creative in how I used the clay". 
Her work has been exhibited at Maryland Hall for Creative Arts in Annapolis Maryland USA, and in Australia – at DiversArty Nillumbik Victoria in 2015 and 2016.  She recently exhibited at the Warrandyte Pottery Expo which is where we discovered her talent.  
Josephine Cassar, VIC