Jemima Woo, NSW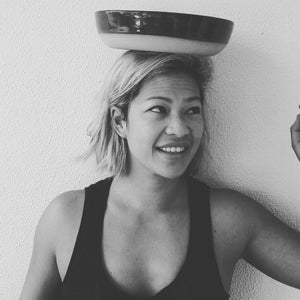 Jemima is one of the young, emerging potters based in Sydney who is now starting to show us what she can do.  With a background in design and with a natural flair for simplicity of form, she has a wonderful eye for shape and a great ability to enhance the character of the clay she is working with.  Her pottery is always a stylish balance between design and function.
Her passion for making functional tableware came from her love of cooking and sharing good food with family and friends. When she started ceramics as a hobby many years ago, she saw the need for unembellished, functional, ceramics ad she still enjoys the opportunity to serve up a great meal in a beautiful dish or bowl - her own kitchen is full of handmade pots.
Jemima enjoys making tableware for everyday love and use, she wants you to enjoy the tactile beauty of a lovely bowl or dish whether it be for a family evening meal or for a special dinner party occasion. She says "please don't put it away for special occasions – it's there to use and enjoy every day".
Included in our start up range from her is a great stoneware pasta bowl with matching individual pasta dishes. You can buy them as a set or individually.
Jemima Woo, NSW