Denise McDonald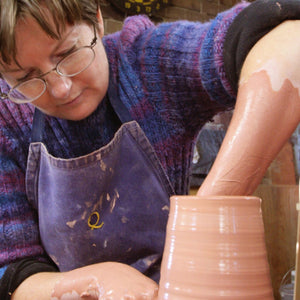 Denise initially trained as a Landscape Architect gaining her Bachelor of Landscape Architecture from the University of NSW in 1991. However it wasn't long before she was yearning for something more directly creative and, recalling her childhood of playing with clay, decided to do a couple of night courses in wheel throwing. As soon as she had thrown her first wobbly pot on the wheel, she knew clay was her future.
After completing a Diploma of Art (Ceramics) at Holmesglen TAFE, Melbourne in 1997, Denise went to England where she completed the famous Dartington Pottery Traineeship in 1999, staying on at the pottery after its completion to further develop as a potter
Over the years, Denise has worked in various production potteries in Sydney and Melbourne as well as an assistant to ceramic artist Louise Gilbert-Scott in Bristol, England. These experiences have given Denise an appreciation for consistency and high quality in her work as well as a sense of the great tradition of ceramics.
She is currently best known for her "Flannel Flower" range which incorporates a 100-year-old Flannel Flower pattern sourced from an Australian Federation window pane (in her home which has been in her family for 5 generations). She is also producing a line of work made up of simple thrown forms which has evolved from a series of cafe and restaurant commissions.
Denise has been operating her business DM Pottery from her Randwick studio since 2010.
Denise McDonald