Dawn Oakford, TAS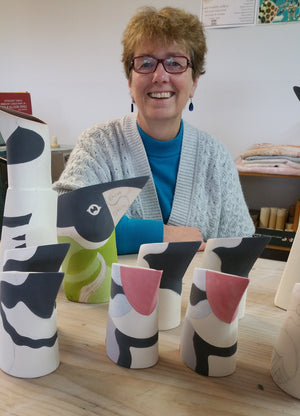 Dawn was born in Rugby, England and moved to Australia in 1968 with her parents and three sisters as part of the "Ten Pound Pom" assisted immigration scheme. Having been drawn to art from an early age, Dawn trained as an art teacher and completed a Bachelor of Fine Arts degree at the Tasmanian College of Advanced Education in 1979, majoring in Art Education and Ceramics.
As part of her training, she learnt how to make tableware on the potter's wheel and experimented with making clay and glazes from local materials. She taught HSC Art to grade 11/12 students at Launceston College for eight years before returning to Hobart to complete a Graduate Diploma of Art, Craft and Design and then a Master of Fine Arts Degree. A major turning point came about at this time when she learnt and experimented with the techniques of mould-making and slip-casting. She was captivated by the faceted and asymmetrical forms that these processes enabled her to produce and the clean, bold contours and surfaces just begging to be decorated with bright colours and pattern!
Dawn has established herself in Tasmania as a well-known and highly respected ceramicist. She works from her home studio in beautiful Hobart at the base of "kunanyi" – Mount Wellington and has set up a successful small business, producing limited edition tableware inspired by Australian wildlife, especially birds. In addition, she makes specialty "one-off" teapots that are colourful and quirky works of art. The inspiration for these comes from a variety of sources including seminal artworks (eg. those of Picasso, Matisse, Miro and Kandinsky), textiles, wallpaper prints, influential movies, her life and most recently the Tasmanian landscape. (We generally have at least one of these imaginative teapots on display on this website).
In addition to her ceramics practice, Dawn teaches the occasional workshop and enjoys curating and coordinating exhibitions that have a significant ceramic art content. 
Dawn Oakford, TAS